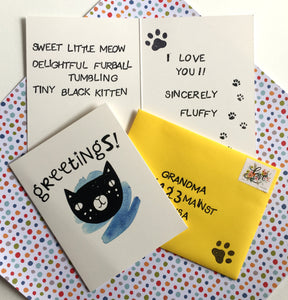 Personalization
Have your card customized to be sent from kitty!
Is there something special Fluffy would like to tell your friend or loved one? Send it in a Cat People Press card! Have your message stamped into a Cat People Press card as a cute and quirky way to connect with a special person in your life.
Want to add extra flair to your message? Haiku poems written by us can be added on to your order for $4.99. At checkout, let us know a few details about your special person/event and we will create a special little ditty from your kitty.
Would you like your message to be in LOLSpeak? We can help with that-just ask!
Personalization is done with rubber stamping, giving the message a special, handmade feel. The basic package includes a 5 word message, Forever stamp, send to address, and mailing.
Greeting card must be purchased from Cat People Press to be personalized.

Basic package ($2.99) includes: 5 words inside the card, Forever stamp, send to address, and mailing service
Additional words: $.99 per 5 words
Haiku poem add on: $4.99

To order: Pick your desired package from the drop down menu on personalization page and add to cart. Pick your desired Cat People Press card to be personalized and add to cart. When you are ready to checkout, leave a note in the cart detailing words you would like stamped in the card, send to address, and any information you would like incorporated into the haiku poem (if applicable).
Please email Rebecca with any questions: rstockert@gmail.com