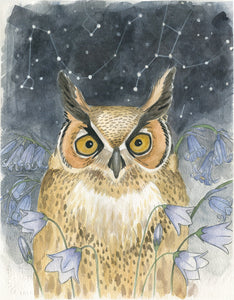 Owl Print 8x10
Regular price $25.00 Sale
Archival quality, open edition print of the original artwork Skunk.  
8"x10" archival quality print on paper
Packaged in a clear plastic sleeve with a stiff card stock backing for protection
Signed by the artist, Rebecca Stockert
Archival quality reproductions are printed in Fort Wayne, IN.
Free shipping on orders $50+
$3.99 flat rate shipping up to $49.99
$12.99 2-day shipping
The original painting was made by Cat People Press owner, Rebecca Stockert, and was inspired by the poem "Limberlost Invitation," by Gene Stratton-Porter.
Come where the chewink chewunketh,
Come where the wild grapevines swing;
Come where the craw-dads are crawling
Over the bed of our spring.

Come where the sun in red glory
Tops Kestler's tamaracks gray,
Come where the black bass are leaping
And the red-wings are calling all day.

Come where the rattlesnake rattles
While the kingfisher rattles also.
Come where the horned owl is hooting
And it rains at the call of the crow.

Come where the harebell is ringing
While the bluebell its worship call tolls'
Come where the vireo preaches,
And the Hermit his vesper song rolls.

Come where the polecat's perfuming
Mingles with flower-scented air,
Come to our swamp in its glory,
Its joys we invite you to share.