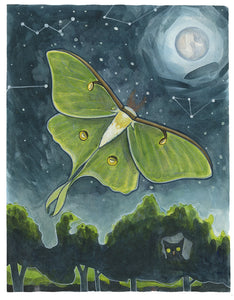 Luna Moth Print 11x14
Regular price $40.00 Sale
Archival quality, limited edition print of the original artwork Luna Moth.  
This is a limited edition run of 100 prints, so when they're gone-they're gone for good!
11"x14" archival quality print on paper
Packaged in a clear plastic sleeve with a stiff card stock backing for protection
Signed and numbered by the artist, Rebecca Stockert
Archival quality reproductions are printed in Fort Wayne, IN.
Free shipping on orders $50+
$3.99 flat rate shipping up to $49.99
$12.99 2-day shipping
The original painting was made by Cat People Press owner, Rebecca Stockert, and was inspired by Gene Stratton-Porter's poem: "The Orchard Moth"
When the sun has gone to rest,
And the moon rears her shining crest,
The night moth courts the orchard glade,
To the screech owl's wavering serenade.